WORKING AT BENNINGTON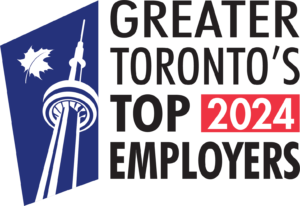 We care about our team members and we do everything we can to make sure they know it.
Some highlights include:
Wellness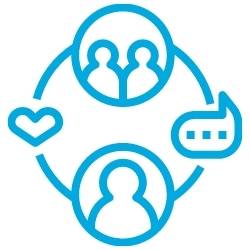 Bennington has partnered with Telus Health to provide confidential immediate care services whenever our team members need it. They get access to counseling, consultations, and online libraries at no additional cost. Team members also receive an at home fitness subsidy, access to Bright Breaks, as well as two paid Wellness Days per year.
Time Off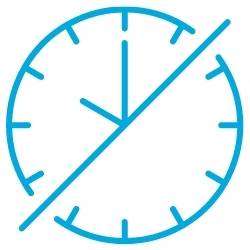 Team members at Bennington start with a minimum of 3 weeks of vacation time and 3 personal days each calendar year. We also provide above average time off for illness and believe in being flexible when it comes to appointments and taking care of loved ones.
Competitive Compensation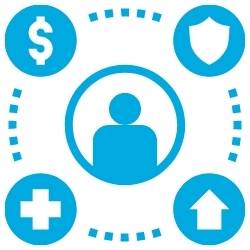 In addition to offering competitive salaries, eligible team members enjoy a generous group RRSP/DPSP matching program, above average short-term incentive program (bonus) and Employee Stock Purchase Plan.
Benefits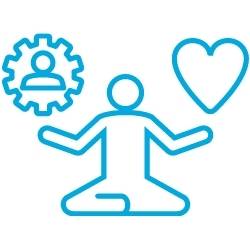 Bennington's comprehensive benefits program offers all the things you'd expect and more. From fertility treatment to mental health care, we've got you covered.
DIVERSITY AND INCLUSION
At Bennington, we don't just value differences - we celebrate them. We are committed to creating a space where people from all backgrounds work together.
We are proud to offer our customers service in the following 22 languages:
Arabic, Assamese, Bahasa Indonesia, Bengali, Croatian, Dari, English, French, Greek, Gujarati, Hindi, Hungarian, Persian, Polish, Portuguese, Punjabi, Russian, Singhalese, Spanish, Tamil, Ukrainian and Urdu.
DIVERSITY AND INCLUSION COMMITTEE
The Diversity and Inclusion Committee was created to ensure that Bennington actively works towards maintaining our workplace diversity and educating our team members about aspects of diversity protected under the Ontario Human Rights Code such as (but not limited to) race, ancestry, place of origin, ethnic origin, colour, citizenship, creed, sex (including pregnancy), sexual orientation, gender identity, gender expression, age, marital status, record of offences, family status and disability.
All are welcome to join.
KITCHEN AND LOUNGE
Our kitchen and lounge space offers everything team members need, from ping pong, foosball, board games and tv, to snacks, drinks and free lunch on in office "anchor days".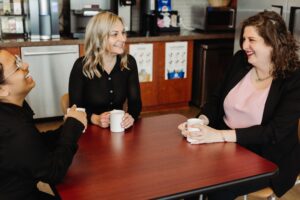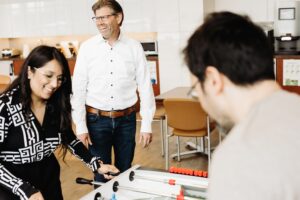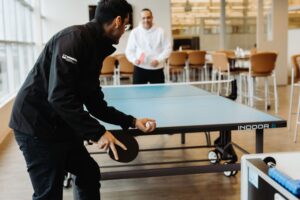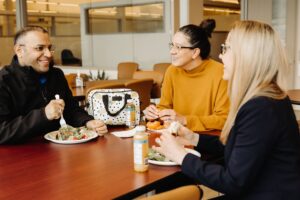 PRAYER/WELLNESS ROOMS
We have two rooms for prayer and personal wellness. These rooms can be reserved to ensure a private moment.
FITNESS ROOM
Pictured below is our on-site fitness room, available to team members at no additional cost.  Our restrooms are also equipped with private showers.